Tonight we at the pill host out very-first
Black Prom
party, coloring the Hallmark Holiday in lovely shades of dark and raising a pint to the jilted lovers across the land.
The Sun Lee Sunbeam
performs live, Billy Blanco shoots the pics and Linsey Riera films the documentary. Shoud be a dope night, and here's official word from the pill mailer: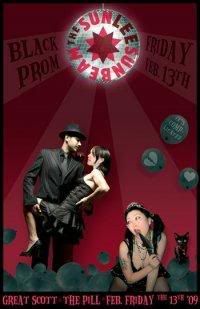 the.pill.02.13.09 -- This one is for the lovers,

Valentines Day is not even here yet, and already we are sick to death of all this lovey dovey bullshit.

So the pill is here to salute the broken hearted, raise a pint to the jilted lovers and quietly mock the naïve in love. Leave the pink at home and don your finest black attire for our first ever Black Prom party, a night of modern indie love songs performed live on stage and thrown down on the dance floor with the eased arc of a cigarette flicked at a guilty ex.

The Sun Lee Sunbeam will visibly narrate their set through the relationship themes of love and hate, offering tiaras and crowns to the itchy boys and girls leaving a careful eye on post-pill bedtime treats. And of course, DJs Ken & I spin the best in Britpop, Modern Indie & Beyond, with a heavy emphasis on a soundtrack mindful of everyones favorite Hallmark Holiday, Valentines Day.

Look sharp. Dress as dark as your emotionless black pit of a heart. Love will tear you apart, so dance with tears in your eyes.