Fresh off our rousing victory in the Phoenix Best '09 poll (see below), the pill celebrates this Friday by welcoming
Televandals
to our fucked-up drunken dance party stage. My quick
bio from thepillboston.com
on our favorite Allston-bred electro punks: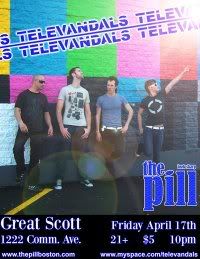 Sometimes the pill gets too polished. The look sharp mantra coats the night in sleekly inspired aesthetics, the Britpop soundtrack sparkles like a midday UK radio transmission and the dance lights of Great Scott shine in colorful cascades that belie these darkened times. Then a band like Televandals comes around the shadowy corner of Abott Square and makes us realize why we drunkenly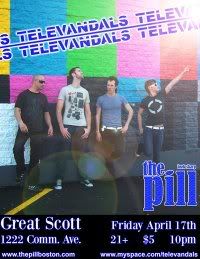 dance into the a.m., why our jilted generation is bred on fierce rejection and why our daytime excuses flow like the wine we pour at night. Like a lightning storm in a Korg factory, this week's live guest runs the Clash through the electronic grinder, perpetually building its Satistact-ian cause as a dent in Boston's ever-exploding rock scene. Buoyed on the dance floor by Zak Broman of Roguewaves' "Dirty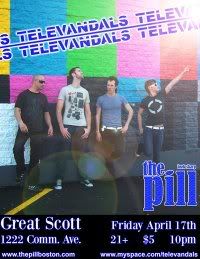 Lovers" remix treatment and a firefight live attack at last month's SXSW festival, Televandals bring the gritty rock n' roll ruckus like few others. Like Paul Weller of the Jam once sang, "this is the modern world." Tune in, drop out.
Catch a preview over at
myspace.com/televandals
... look sharp!